Stephen Fidler, U.K. and Brexit Editor of The Wall Street Journal
21/03/2019 - 19h30 | Conférence apéritif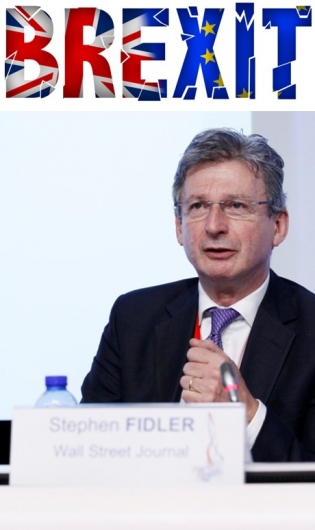 « Brexit : latest status and full review one week before it »


CONFERENCE IN ENGLISH ONLY.

Brexit is a mess, by now it's clear, a complete one, a very deep one, for the UK, for the entire Ireland and for the whole of us in the European Union. And still, hardline Brexiters are more than ever « hard Brexiters ». When it was approved by 52% of voters, two and a half years ago, to the despair of a majority in Ulster, Scotland, London and other urbanities, but to the delight of rural UK, its promoters claimed Brexit would be easy. It was a double lie !

Not only did the two and a half year of discussion and negotiation demonstrated that extracting a highly industrialised leading integrated member state from the European Union and its legal and logistical business web proved to be, as Pascal Lamy, a former EU Commissioner, said « complex as taking an egg out of an omelette »…

But the recent historical parliamentary rejection of Prime Minister May's deal demonstrated that the very nature of UK's parliamentary democracy was spectacularly ill equipped to deal with such a referendum driven on a largely populist agenda ! (*)

Brexit is supposed to happen this March 29th... In order to better understand the situation, we invited Mr Stephen Fidler (Wall Street Journal), one of the best informed journalists on the matter to help make a clearer picture on that Brexit and of the upcoming few days leading to it.


(*) Yes these introductory quotes are biased and only reflect the personal view of its Belgian author, your moderator for this conference… A few thoughts maybe to be taken as introduction for Stephen Fidler's upcoming insightful Brexit session.


EXPRESS BIO :
• 1987-2009 : various positions at the Financial Times, including Capital Markets Editor, Latin America Editor, and U.S. Diplomatic Editor, based in Washington DC
• 2009-2017 : Brussels Editor of the Wall Street Journal, heading coverage of the European Union and the North Atlantic Treaty Organization
• Since April 2017 : U.K. and Brexit Editor of The Wall Street Journal, leading coverage of Brexit developments, as well as politics and economics in the U.K. and Ireland
• Writes a regular column and was part of a team of Journal reporters named as a finalist for the Pulitzer Prize in 2011 for their reporting on the euro-zone debt crisis


This conference will be held in English only.
Welcome from 7.00 pm; Conference at 7.30 pm; Cocktail at 8.45 pm.
Château Sainte-Anne :
103, rue du Vieux Moulin
1160
Bruxelles
25.00 €
Accompanying member
30.00 €
Non members