Home

Restaurant

The restaurant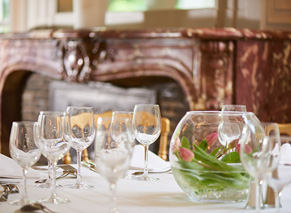 Presentation
The catering is exclusively entrusted with "Choux de Bruxelles". They have a team in our kitchens which guarantees attentive service, top quality and conviviality. Members are personally welcomed at the chateau and the pool house restaurants.
Every weekday, the château restaurant offers various lunch options: one course meal (21 €), two courses (26 or 29 €), or full menu (35 €) with a special offer every day. In sunny weather, lunch is served on the terrace.
During the summer season, a more "relaxed" service is offered at the pool house from 8 am to 8 pm for our sport members, their families and guests. The restaurant stays open on Friday until 10PM (excepting in case of very bad weather). Please make a reservation by phone 02-663.37.46.
In order to be sure of getting a place at the Château restaurant, you are strongly advised to reserve a table, 02-663.37.41-45. No reservation required at the pool.